I know this is massively- MASSIVELY- late. I'm sorry. But let me say that 2016 is already pretty much a personal bust for me. And it is only March fourth.
My top two albums of 2015 were released within 15 days of each other in the first quarter of 2015. One was highly anticipated, talked about extensively, and was earth shattering in its influence in both music and politics. The other was quieter, just as revolutionary in its scope, but different, and emotionally devastating to me on a personal level. When writing out the outline of this list and contemplating how my two clear favourites played against each other, it became clear that one meant more to me, and cut me deeply. Lists like this are arbitrary. There really is little reason for the existence of these lists other than the human brain makes lists because we like order and sense.  So here is my completely nonsense list.
25. The Decemberists What A Terrible World, What A Beautiful World
I miss R.E.M.
I just do.
So in their absence my love for Oregon's The Decemberists, the band that owe their entire career to the nostalgia of R.E.M.'s I.R.S. era work. On their seventh album, the band is just as smart and literate as ever, but they stop with the overblown musical ambition. The Decemberists albums always have been a hit and miss affair for me- sometimes they go too far with the sea shanty or proggy ambition of Colin Meloy. But in rediscovering their pop genius and becoming even more cheeky on occasion (see "Philomena", the filthiest, most on the nose song Meloy has ever written), the band reaches an accessibility they almost achieved in 2011 with The King Is Dead.
Songs to hear: The delightful "The Cavalry Captain"; the ode to oral sex "Philomena"; the gentle folk strumming of "Lake Song".
24. Jamie XX In Colour
I'm a sucker for a great EDM record and Jamie Smith (aka Jamie xx) gave me a dandy one. Five years in the making, during which he also did great work with his day job (the mopey electro-pop outfit the xx), Jamie xx creates an album full of joyful noise and spirited movement. A completely different emotional note than his work with the xx, it's a glorious first impression of what he is as a solo artist.
Songs to hear: party anthem "I Know There's Gonna Be (Good Times)"; the sci-fi inspired sounds of "Obvs"; the classic dance beats of "Gosh".
23. Blur The Magic Whip
How happy was I when they got it all together and gave me new music. And they even opened with a song that sounded like a Parklife lost track! But while the familiarity is there, they also have expanded their musical vocabulary. The time apart helped immensely. They are more cohesive than on Think Tank, as fun as Parklife, as loose as The Great Escape, and it is a beautiful return to form from one of my favourite bands of all time.
Songs to hear: opening track, the classic Blur sound of "Lonesome Street";  the Asian influence of "Pyongyang"; the Beatlesque "Ong Ong".
22. Sleater-Kinney No Cities To Love
Sleater-Kinney was never a band I loved when they were young and hip and I was supposed to care. They were at their peak when I was a young mother, and my days were taken up with Teletubbies and Raffi.  I didn't have time for them. It was about four years ago and I finally got around to listening to One Beat that I realized I was an idiot. It also was part of my growing girl crush on Carrie Brownstein that helped me realize that Sleater-Kinney were the best band at the turn of the millennium and not the Wiggles like my sleep deprived brain originally thought. Sleater-Kinney's return to recording is ferocious, inspired, and empowering.
Songs to listen to: the totally kick-ass "Surface Envy"; the utterly perfect "Hey Darling"; the magical magnificence of "A New Wave"
21. Destroyer Poison Season
Sometimes Dan Bejar makes his music unpleasant. But from the opening notes of "Times Square, Poison Season 1", we're treated to a different kind of beauty. It retains the gorgeous melodic sensibility of his classic Kaputt album while expanding his cluttered and intellectually dense sensibilities into a less daunting place. There are moments that sound utterly unrestrained in loveliness. It is almost a pop album.
Songs to immerse in: the horn laced "Dream Lover"; the musically diverse "Hell"; the Nelson Riddle inspired arrangement of "Girl in a Sling".
20. Wolf Alice My Love is Cool
Ellie Roswell's ethereal voice lifts the dreamy folk-rock of Wolf Alice to exquisite heights, its icy cool complimenting the crunchy guitars favoured by Roswell and cohort Joff Oddie beautifully.  A Mercury nomination, Grammy love, and worldwide acclaim followed for the North London quartet. In an era where pretty girl voices are a big thing, Wolf Alice has one of the prettiest, and they back it up with gorgeous melodies and an unerring sense of who and what they are.
Listen to: the grungy "Moaning Lisa Smiles"; the snap and release of the drums on "Soapy Water"; the dark mope of "Silk".
19. Leon Bridges Coming Home
From its striking retro cover art that harkens to the era of Sam Cooke and Otis Redding, to  sounds within that do the same, Leon Bridges makes me gloriously happy. It's not just that I miss that gospel tinge soul of Cooke and the like, though I certainly am a massive fan of that style. It's because that it sounds new again in an era of overproduced synth beats and samples. It would be easy to dismiss Bridges as a retro act, but that would deny the musicianship he displays, From classic harmony building with the use of Ray Charles style female backing singers, to subtle horn flourishes, swinging rhythm and blues lives on.
Please enjoy: the musical creep of "Brown Skin Girl"; the gospel choir spirit of "Lisa Sawyer"; the contemplative gentleness of "River". 
18. Braids Deep in the Iris
My hometown has produced fantastic bands over the last fifteen or so years, and Braids, the twice Polaris-nominated art rock act now settled in Montreal but originally from Cowtown and alums of Western Canada High School are certainly among the best of the best. As Raphaelle Standell-Preston's sweet voice dances over the hiccups and breaks of the band's electronica inspired beats, the music swells into gorgeously constructed melodies.  An artfully moody record.
Songs to listen to: the frustrated "Miniskirt"; the sighs and nursery school music of "Blondie"; the quiet syncopated jumps of "Bunny Rose".
17. Hop Along Painted Shut
The Philadelphia based Hop Along had an artistic breakthrough in 2015 with the exquisitely rendered Painted Shut. Singer Frances Quinlan's ragged yelps are matched by indie rock that is equally jagged at the edges. But under the angular guitars and odd phrasing are pretty melodic touches and one hell of a drummer in Mark Quinlan. It's not music that reinvents a genre, but it is music that defines the genre it springs from.
Important tracks: classic indie rock beauty on "Horseshoe Crabs"; the acoustic strumming and anguished vocals of "Happy to See Me"; the shiny pop guitars of "Waitress".
16. Passion Pit Kindred
People who know and love me well know that Passion Pit is my kind of band. Exquisite dance music? Indie sensibility? Pretty falsetto? Depressive songwriter doing painful self-examination? Check check check check. I do adore Michael Angelakos. Kindred is the result of finding peace and understanding after struggling for so long ( his previous album, 2012's beautiful and sad Gossamer, was all about his struggle with mental illness and it permeated every aspect of the album, including the press afterwards). The music is simply joyous for much of the record. Focused and musically beautiful, this album seems sadly overlooked in the year-end gushfests. Well, consider me gushing.
Perfect music: The sunny "Lifted Up (1985)"; the 80s inspired "Five Foot Ten (I)"; the pretty synth swoon of "Looks Like Rain".
15. The Weeknd The Beauty Behind the Madness
I was a huge fan of Abel Tesfaye's free mixtapes, as I saw an artist inspired by hip hop and 80s R&B (specifically Michael Jackson). On his second official album, Tesfaye brings out all the Jackson. Yet it never veers into ripoff territory. There are too many other influences, particularly from hiphop. Also, MJ would never write a love song to cocaine. Lyrically dark and musically fresh, it's influence will be felt  for years to come.
Songs to bob your head to: the epic "Can't Feel My Face"; the Labrinth collaboration "Losers"; Fifty Shades of gorgeous "Earned It".
14. Car Seat Headrest Teens of Style
It technically breaks my rules, as it is a compilation record of Will Toledo's DIY recordings on Bandcamp, cleaned up and mastered neatly. I can hear his influences all over the place- indie godfathers Guided By Voices are a big band in Toledo's world. But I love this record because it's still so raw and it's amazing for it. He could stay away from the Fall Out Boy inspired song titles ("Bad Role Models, Old Idols Exhumed (psst, teenagers, put your clothes back on)" is kinda ridiculous) and some judicious editing can make things even better. But I love his influences as much as he does. It's still far from perfect, but if he gets there, Will Toledo will change things.
Songs to contemplate: "Something Soon" and its sing along chorus; the catchy "Times to Die"; the lovely "Maud Gone".
13. CHVRCHES Every Eye Open
If you are going to recall Depeche Mode, you can do worse than reworking the feel of "Just Can't Get Enough". Synthpop from that era feeds CHVRCHES own brand of electronica, and I automatically sussed out the similarities between what the Scottish outfit are doing here and the classic 80s band did back in 1983.  But Lauren Mayberry is a better singer than Dave Gahan (shut up), and her millennial girl lyrics  makes the retro vibe of her band feel new and shiny. She is less open lyrically than she was on 2013's The Bones of What You Believe, but instead of it making the music less accessible she sounds empowered and engaged with her primary peers (millennial girls). The music is just so much fun on top of it all. I will always be a sucker for 80s synthpop.
Songs to dance to alone in your room:  the memorable "Clearest Blue"; the delightful pop of "Leave A Trace"; the Martin Doherty starring "High Enough to Carry You Over".
12. Carly Rae Jepsen E⋅MO⋅TION
I once wrote, ages ago on another blog long-lost, that Carly Rae Jepsen was the best thing to ever happen to Canadian Idol. Now, I can also make that case for Jacob Hoggard, frontman of Hedley, the Canadian quartet that has dominated airwaves the past decade. But Hoggard has never made international waves Jepsen did when she released "Call Me Maybe".
"Call Me Maybe" is honestly a cute slice of girly pop, but overexposure made it intolerable in a few months. So I sulked behind my keyboard, crushed that the girl who memorably made me misty during her version of Janis Ian's "At Seventeen" would be lost to one-hit wonderdom, a trivia answer for future generations of music nerds. Jepsen herself retreated to work with a bunch of Swedes to create a perfect pop record.  And it really is as close to perfect as 80s inspired pop can be. The songs match Jepsen's sweet girlish voice so well. It's a happy record as well, the  music is buoyant and hopeful.  The fact that it wasn't one of the biggest records of the years is frustrating to me.
Music so good you will hate yourself for not buying this record sooner: the delightful "Run Away With Me"; the gleeful "I Really Like You"; the Sia penned trifle "Boy Problems".
11. Kurt Vile b'lieve i'm goin down
The laid back stoner vibe of Kurt Vile belies his ability to churn out great records. He's always weird, always funny, and always amazing. "Pretty Pimpin" and its all-encompassing brilliance put aside, the album is filled with fantastic folk-rock touches, including quite a bit of banjo ( why the hell not?), and songs like "I'm An Outlaw" and "That's Life, tho (almost hate to say it)" sound witty and magical. He just keeps getting better.
Songs you must adore: the genius morning after track "Pretty Pimpin"; the seventies flourishes on "Dust Bunnies"; the lovely piano on "Life Like This".
10. Vince Staples Summertime 06
The new batch of emcees in hip hop are a different breed from their predecessors in their ability to reflect. Not just on the external factors of their neighbourhoods, but on their own flawed existences. Staples is the latest to début an astonishing self-reflective album. He touches on family dynamics, his own history with gangs and redemption, and what it means to be the child of a parent with mental illness. He is always eloquent, even humourous. He's less meditative than Frank Ocean and not as revolutionary as Kendrick Lamar, but he is a superb storyteller. Sometimes they write the best rhymes.
Tunes to turn on: the panicked exhaustion of "Jump Off the Roof"; the tribute to Long Beach "Norf Norf"; the warning of "Get Paid"
9. Julien Baker Sprained Ankle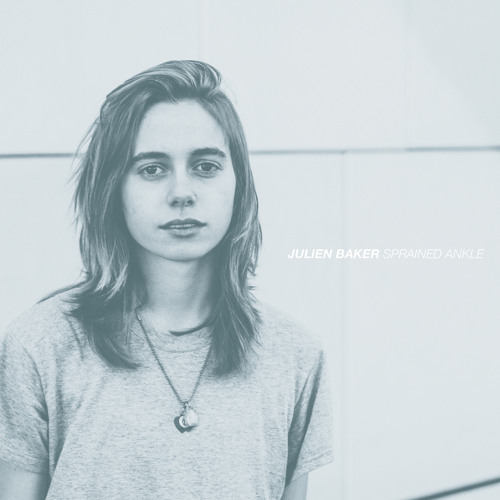 With her delicate voice and gentle guitar, Julien Baker defines fragile singer-songwriter. Her battle with her demons are the topics at hand on her début album, and she shares her observations with self-awareness and humour, while never being ridiculous. There is no muss or fuss on the record, and beautiful songs like the title track stick with you long after you move on to the next album in your queue. She's one to watch.
Songs that must be listened to so they can be appreciated: the gorgeous "Sprained Ankle"; the brutally real "Brittle Boned";  the quiet hope of "Rejoice"
8. Donnie Trumpet and the Social Experiment Surf
Brass.
There is brass. So much brass it makes Herb Alpert blush.
Donnie Trumpet is part of Chance the Rapper's collective. The album title is no accident.  The Social Experiment play with everything from the Beach Boys to rich funk. The result is musically eclectic, and as always, a horn section makes everything better. A fantastic turn on hip hop.
Going to a -go go: the B.o.B., Janelle Monae and Busta Rhymes collaboration "Slip Slide";  the tribute to matriarchs everywhere "Sunday Candy"; the brilliant cheeriness of "Wanna Be Cool"
7. Protomartyr The Agent Intellect
Detroit can still turn out a great band, fifty years after the Stooges and MC-5 first made waves. Protomartyr couldn't sound more different from those two bands, or contemporary Detroit -born rock God Jack White. Their post-punk, grungy and hard aesthetic has taken an even darker turn as front man Joe Casey delves into mortality after the death of his father and the aging of his mother. He's still not a great technical singer, but he is perfect for this band, and their musicianship is amazing. This band has been consistently improving on each record they release. Imagine what they will do next.
The songs you want right now: the brutally honest "Why Does It Shake?"; the touching ode to his mother "Ellen"; the dark decay of "Dope Cloud", which is clearly about the decline of Detroit
6. The Chills Silver Bullets
It took forever but it's here now.
One of the neglected 80s bands I always want to talk about but never seem to is the Chills. Out of New Zealand, they released a few albums in the late 80s and early 90s, and several singles in throughout the 80s. My fave, "Pink Frost", kind of has this loopy gallop of a guitar line that is instantly memorable. But despite Martin Phillips insistence that a new Chills album was on its way, they became the Kiwi version of My Bloody Valentine.  The time away has not dulled Phillips melodic sense.  As he waltzes through song after song, lamenting the state of the world, he never loses his ability to create beautiful music.
The songs I love: the melodic and expansive "Pyramid/ When the Poor Can Reach the Moon"; the lovely "Tomboy"; the near perfection of "Molten Gold
5. Courtney Barnett Sometimes I Sit And Think and Sometimes I Just Sit
I sometimes hate music writers because they all tend to fall behind some up and coming singer-songwriter and herald them as the future of put genre name here. Courtney Barnett was labelled as the future of indie rock and damn it, they may be right.
Barnett is smart, funny, and accessible while all the while being completely acerbic in her demeanor and delivery. Her first full-length album is full of wry observations and clever turns of phrases and rhymes.Whether it's the delightful melody cloaking utter disdain in "Pedestrian at Best" or the house that is the subject of "Depreston", she is never dull, and always clever.
Amazing songs from this album: the excellent "Pedestrian at Best";  the bitter "Small Poppies" which involves coat hanger as a weapon plan; the political "Dead Fox"
4. Titus Andronicus The Most Lamentable Tragedy
It's a quilt square from my grandmother's stash!
Titus's Patrick Stickles and I have a complicated relationship. I sometimes want to rip out his vocal chords. He would probably bludgeon me to death with his guitar. So imagine my dismay about hearing that Titus was putting out a five-act rock opera concept album on three- THREE- discs. It was like my nightmare came true.
Then I sat down and listened to 93 minutes of absolutely amazing, ferocious, brilliant punk rock. The album is ostensibly about Stickles battle with bipolar disorder. And I relate to every word so much. The more I listened, the more I fell in love with this record. Maybe it only takes someone who has been to hell and back to speak about it so eloquently to make one realize that they are being an idiot and stop resisting the music. If Stickles is true to his word that this is the last Titus Andronicus album, then I'm sorry I was late to the party.
Listen, listen, listen: the delightful 90s punk of  "Dimed Out"; the Pogues inspired rave up of "Come On, Siobhan", then matching that with an appropriate cover of the Pogues' "A Pair of Brown Eyes"; the bluesy shamble of "Lonely Boy"
3. Grimes Art Angel
The dance music fan in me loves Grimes on the base level, where driving beats and sonic flourishes matter more than concrete ideas. But she has never lacked for meaning, which makes her much more interesting than many of her male counterparts, who are content to hire pretty girls with thin, pretty voices and so be it, there's a hit. Claire Boucher sings her own songs, with a delicate and angelic touch. But she backs up her vocals with amazingly complex and diverse sounds, and she remains my favourite dance music creator.
Dance, dance, dance: the lovely "Flesh Without Blood"; the brilliantly scary"Kill V. Maim"; the intense singularity of "Scream"
2. Kendrick Lamar To Pimp a Butterfly
Kendrick is what hip hop should be, always. Urgent, political, ferocious, smart, curious. If you thought g.o.o.d. kid, M.A.D. City was a work of genius, then To Pimp A Butterfly, which is even better, is almost biblical. No matter how angry he gets, he never lets the frustration get in the way of the music, and  the songs are all beautifully constructed, densely worded and always intense. It's unrelenting in its attack, and it can be an exhausting record to get through, but man, does it soar anyway.
Hear, hear, hear: the powerful "Alright"; the complex emotions of "i"; the sonic chaos of "u"
1. Sufjan Stevens Carrie and Lowell
Parental loss is a theme that makes me run from great art frequently. Years of therapy has done little to diminish the loss of my mother, though day-to-day I can fake it pretty well. So imagine what happened when I put on Stevens' ode to his late mother and her second husband, a deeply personal album from a singer-songwriter I admire but don't always love.
Sufjan Stevens tore my heart out. Repeatedly.
It's an achingly beautiful record. The story is well known- Carrie abandoned the family when Stevens was young and suffered from mental illness which prevented her from being the ideal, but they made a type of peace with each other. My own mother was physically ill for the last ten years of her life, which made parenting really hard for her, and I can only imagine how that made her feel as being a wife and mother was everything to her. But Stevens addresses his relationship with his mother with maturity and grace, making someone like me with still roiling rage seriously contemplate their situation. Carrie and Lowell ended up being therapeutic. It's in no way an easy record, as he also deals with the aftermath of loss. Grief manifests in different ways, and I recognize the destruction Stevens talks about (" Cross hatch, warm bath, Holiday Inn after dark"). I spent years writing and writing, going nowhere, trying to express feelings that there were no words for. Stevens got it together enough to create something sadly majestic, and completely transcendent.
I am so grateful that this record exists. It's brought more healing to me than everything else I have ever done to try to stop the pain of loss.
Thank you so much, Sufjan. I can call you Sufjan, right? And God bless.
The most beautiful of the beautiful: the delicate and resigned "Fourth of July"; the devastating "Beloved, My John"; the exquisite "No Shade in the Shadow of the Cross"